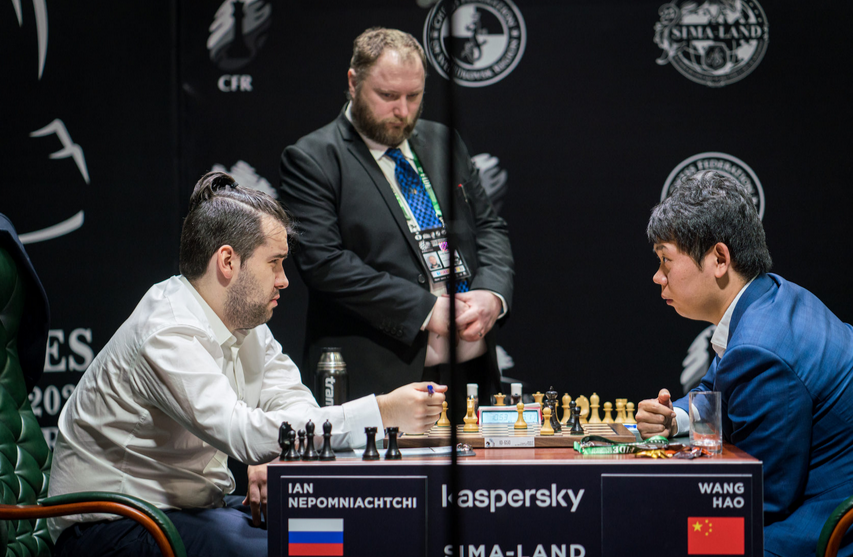 Photo © | https://en.candidates-2020.com/main
Ian Nepomniachtchi objął samodzielne prowadzenie w Turnieju Kandydatów FIDE w Jekaterynburgu, pokonując Wang Hao w rundzie 5. Nepomniachtchi wybrał wariant przeciwko Obronie Rosyjskiej Wang Hao, która była dość popularna na najwyższym poziomie, jego nowy ruch 13.h4 doprowadził do pozycji z dokuczliwą przewagą, Wang nigdy nie czuł się całkowicie komfortowo, a sprawy stawały się coraz trudniejsze, 32 ... Hd7 przegrywa, 32 ... He7 było tylko trochę lepsze, 32 ... Sxd4 jest równe według komputera, ale żaden z graczy nie rozważał tego poważnie. Wang zrezygnował na straconej pozycji, ale prawie na pewno powinien był poprosić Nepomniachtchiego o wykonanie kilku ruchów, aby to udowodnić.
Anish Giri wydawał się być na dobrej drodze, by pokonać Fabiano Caruanę białymi w Obronie Słowiańskiej, ale, jak to skomentował po tym, jak po prostu "nie mógł do końca obliczyć zwycięskiej linii do końca" i być może na tym polega problem, atak musiał zostać rozegrany trochę bardziej intuicyjnie, niż był na to przygotowany. Caruana, faworyt przed imprezą, nie gra teraz zbyt dobrze, a dzisiejsza strata spowodowałaby, że byłby daleko w tyle.
Pozostałe dwie partie zostały zremisowane.
W partii Kirill Alekseenko – Maxime Vachier-Lagrave zagrano ostry wariant Najdorfa, który wystąpił w partii Magnus Carlsen – MLV w Londynie 2019. 16. … g6 było nowym posunięciem. Alekseenko wiedział, że ofiara 17.Wxg6 było właściwym posunięciem, ale nie znał szczegółów, a po odpowiedzi 17 ... Wxc3 myślał przez 50 minut, zanim zagrał 18.Sxe6 - wszystko to
był oczekiwany przez MVL, ale Alekseenko kontynuował samodzielne podejmowanie dobrych decyzji. Po ostrej grze gra zakończyła się remisem przez powtórzenie posunięć. Była to dobrze rozegrana partia.
Grischuk powiedział o swoim remisie z Ding Lirenem. "Myślę, że to była bardzo dobra partia, ale niezbyt interesująca". a sam Ding wydawał się zadowolony ze swojej gry, w której stosunkowo wygodnie zremisował czarnymi wariant anty-Marshalla Partii Hiszpańskiej.
Później Grischuk powiedział, że jest bardzo przekonany, że turniej powinien zostać teraz przerwany. Jeśli turniej ma zostać przerwany, zostało już powiedziane, że wydarzenie zostanie wznowione później z graczami bez względu na ich wynik w danym momencie.
Wyniki
Nepomniachtchi, Ian - Wang, Hao 1-0
Grischuk, Alexander - Ding, Liren ½-½
Alekseenko, Kirill - Vachier-Lagrave, Maxime ½-½
Giri, Anish - Caruana, Fabiano ½-½
Partie